The Atlanta Journal-Constitution named Dorsey Alston, Realtors to its annual Top Workplaces list published March 21.
Last year, Atlanta's oldest and largest privately-owned residential real estate firm earned the No. 1 spot. This year, it was No. 2.
Dorsey Alston has either been No. 1 or No. 2 for five straight years, and a Top Workplace since 2015.
Here's what reporter Nancy Badertscher wrote:
"Founded in 1947, Dorsey Alston is Atlanta's oldest privately-owned residential real estate firm. The company has offices in Buckhead, East Cobb, and Virginia Highland and 230 Realtors, up from 26 in 2000. But it has a much wider reach: in 2019, the company closed transactions in 24 counties and 116 zip codes.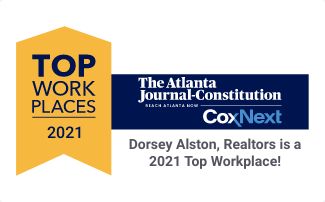 "Dorsey Alston boasts the highest associate retention rate in the market, and its owner Michael Rogers follows the servant leadership model of management. The company was the first real estate company in the market to offer health insurance to its agents, all of whom are private contractors. The staff have flexible office hours and can take advantage of an open vacation policy based on the theory that they should be trusted to manage their own schedules as long as they carry their share of the workload."
The AJC and Energage survey metro Atlanta employees to determine the area's top workplaces. Energage, an employee research and consulting firm, utilizes a scientific survey process to determine the top large, midsize and small companies.
Energage surveyed 244 companies that agreed to participate in the no-cost program. These companies represent 56,160 workers in the Atlanta region, including 34,031 of whom responded to the survey.
Any public, private, nonprofit, or governmental employer with a minimum of 50 employees in the 17-county metro region was eligible.