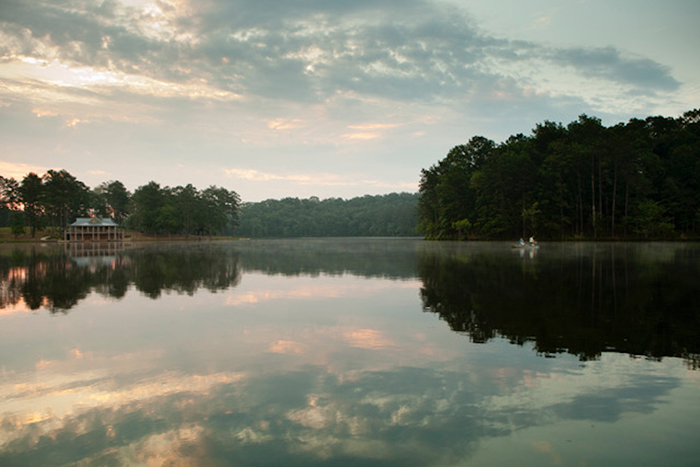 Nestled in a private, woodland haven, Blalock Lakes is a perfect blend of outdoor activities, traditional Southern living, contemporary conveniences and beautiful vistas.
In short, there's something for everyone to enjoy in the idyllic, 1,600-acre community, from young families to empty nesters to singles.
"Blalock Lakes is an outdoor lover's paradise in every sense," said Wight Mixon, Associate Broker with Dorsey Alston, Realtors, and Director of Real Estate Sales and Club Membership at Blalock Lakes.
Located in Newnan, Ga., Blalock Lakes is just 45 minutes from Hartsfield-Jackson Atlanta International Airport and one hour from downtown Atlanta. But what really distinguishes it from other communities, in addition to the natural beauty of the land, is the "sporting" lifestyle.
Blalock Lakes offers guided hunts with well-trained dogs through carefully managed fields and forests that provide the perfect habitat for quail. There is also whitetail deer bow hunting.
It is home to a world-class sporting clays facility as well as equestrian facilities and miles and miles of riding trails. The lakes are aggressively managed for trophy bass fishing. In addition to being a community, Blalock Lakes is also an exclusive Sporting Club, and a limited number of memberships are available.
Residents Shane and Cortney Lyle fell in love with life at Blalock Lakes. An outdoors family – equestrians and bird hunters –  they take advantage of the amenities and activities all year round.
"One of our favorite things to do at sundown is tour the property and watch the changing seasons," the Lyles said. "Our neighbors are our friends and we see them often at the Lodge and the pool where we share dinners and a glass of wine. The Blalock Lakes team is great and always available to help with an issue. It is an incredible lifestyle."
With its access to hiking, swimming and other popular activities, Blalock Lakes attracts people who love exploring and enjoying ample greenspace. Its illustrious tree canopy and breathtaking natural scenery, enhanced by beautiful lake jewels, provide the perfect setting for quiet reflection and relaxation.
"We instantly fell in love with Blalock on our first visit a few years back," said residents Carl and Claudia Stimmel. "We have three boys who love to hunt, fish, swim in the beautiful pool and paddle around the lake. Living in Atlanta and being on the go all of the time with school, sports, scouts, music performances and everything else, Blalock Lakes is our escape. It allows all of us to slow down and play board games, have long conversations around our fire pit, have old-fashioned picnics at the trout pond and enjoy the beauty and nature of the land."
The growing interest in the unique community is reflected in strong sales.
"We have sold more than half of our current available homesites, and are about to release a new phase with an additional 50 or so homesites," Mixon said. "When all development is complete, the community of Blalock Lakes will have just shy of 200 homesites."
When she thinks about Blalock Lakes' most stunning features, Mixon said, "The first thing that comes to mind is the natural beauty of the land — the lakes, quail fields and majestic woods. The amenities, including the Lodge, Boathouse and Stables are all also spectacular."
From its Sporting Club memberships with access to fishing and hunting, to available homesites surrounded by beautifully-appointed landscapes, Blalock Lakes balances its amenities with easy access to historic downtown Newnan, which has quaint shops, amazing restaurants and all of the services one needs.
"The history of Blalock Lakes as a development goes back to 2006, when the previous owner developed it, spending $42 million," Mixon said. "It was purchased by new ownership in June 2015."
When the community was first developed, enthusiasm was high, but the timing could not have been worse with the real estate market downturn. Thankfully, times have changed for the better.
"Now, Blalock Lakes has taken on a new life," said Mixon. "Club membership and the real estate sales are going strong. Many new improvements and amenities have been added, further enhancing the Blalock experience."
Homesites range from half-acre wooded lots for around $60,000; three-and-a-half-acre equestrian lots for $175,00, and up to one-and-a-half-acre lakefront sites for $275,000 and everything in between.
A few spec homes are available for sale, including a four-bedroom cabin for $399,000 and a four-bedroom home on prime lake lot for $649,000.