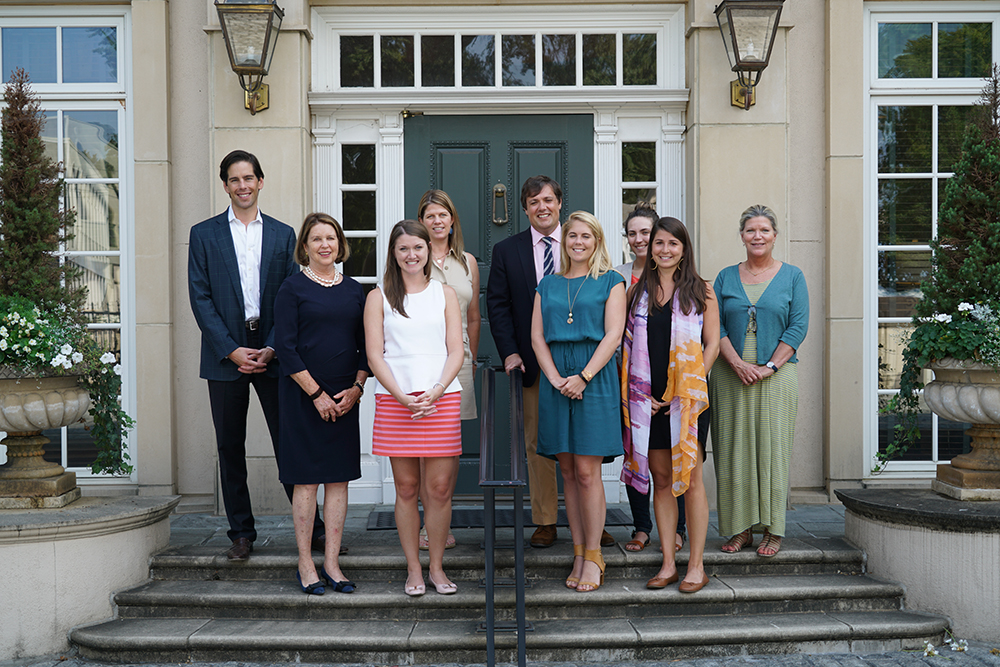 Michael Rogers, left, our CEO with team members in front of 100 West Paces Ferry Road, the Dorsey Alston headquarters.
Our CEO's route to Dorsey Alston was not a straight line.
Michael Rogers graduated from the University of Virginia with a major in Economics and a focus in Drama, and moved to Los Angeles to break into the entertainment industry. Fifteen months later, his father, Paul Rogers, was diagnosed with cancer and passed away shortly after.
Michael moved back to Atlanta to oversee the estate, which included Dorsey Alston, Realtors, BMW of Macon, a potential marina property in St. Simons, and various residential development projects throughout Atlanta.
In 2006, he moved back out to California to attend Stanford University's Graduate School of Business. He graduated in 2008, and came home to focus his attention full time on Dorsey Alston.
Since that time, the firm has grown exponentially and is now the largest and oldest independent and locally owned real estate company in Atlanta. Dorsey Alston has experienced its greatest success during the last 15 years, growing by more than 1,000 percent. It facilitated more than 1,500 sales in 92 zip codes, with more than $750,000,000 in closed sales volume last year alone.
Michael's efforts have not gone unnoticed. The AJC – the largest daily newspaper in the Southeast – named him the top leader of a mid-sized company for the AJC Top Workplaces 2017. Dorsey Alston earned the No. 2 spot for mid-sized business in Atlanta.
Michael said his best moments at work are interacting daily with the team.
"We enjoy each other's company, and as a result, the office is a fun place to work," he said.
In terms of the challenges his company faces, he said he is fighting the stereotype that others in the industry have created for Realtors. He points, comically, to the movie "Fantastic Mr. Fox," where a weasel portrays the real estate agent.
He said he has but one regret, and that is that he didn't have the chance to work with his father.
"I keep a picture of him on my desk and would give anything to have learned more from him professionally."