DORSEY ALSTON, REALTORS® TAKES IN A NEW VIEW OF THE MARKET
ATLANTA – Dorsey Alston, Realtors is dominating over Buckhead in the form of a 40-foot billboard located at the intersection of W. Paces Ferry and Peachtree Roads, just one block from the office.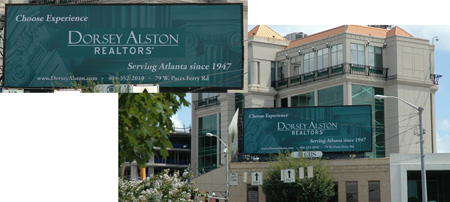 Working in conjunction with CBS Outdoor, the outdoor advertising division of CBS, Dorsey Alston designed and implemented a billboard based on agent feedback and suggestions. The billboard went live on Aug. 17 and will remain part of the Buckhead landscape for the next three months.
"We quickly began receiving positive comments from clients and friends alike," said Dorsey Alston President and CEO Michael Rogers. "The billboard has afforded us the opportunity to promote Dorsey Alston in a way which we've never done before."
Dorsey Alston recently made its first national appearance in AirTran's Go Magazine August and September issues. Viewed by more than 2 million AirTran passengers each month, the magazine allowed Dorsey Alston to extend its reach beyond the metro Atlanta area. Rogers gave an interview in the August issue for an article based on the positive outlook in Atlanta's residential real estate market.
Dorsey Alston has tripled in size over the past year, boasting a roster of more than 130 agents. Unlike most of its competitors which are under corporate management, Dorsey Alston, Realtors remains locally owned and operated. The on-site leadership team of Rogers and Senior Vice President and Managing Broker Spalding White, is often commended for the personal feedback they provide to associates and clients.
Dorsey Alston agents have a combined average of 13 years in the business. Client testimonials often attribute the ease of negotiating home purchases and sales to a Dorsey Alston agent's skillful representation and market knowledge.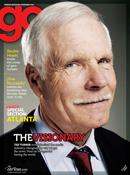 Atlanta Realtors You Can Count On
Founded in 1947 by Roy Dorsey and Robert Alston, Dorsey Alston, Realtors "Atlanta's First Family of Real Estate," has a distinguished track record representing generations of clients and their fine properties. Dorsey Alston remains Atlanta's longest established and privately-owned residential real estate agency. The firm's detailed knowledge of the market, experienced agents and commitment to customer service is what they attribute to their success. You can learn more with Your Atlanta Realtors
###
For additional information about Dorsey Alston, Realtors® and any of our listings please call our Buckhead office at 404.352.2010