Housing inventory is starting to build up across metro Atlanta, which is a good thing.
For the last two years, prices have surged due to unprecedented demand and the lack of homes available for sale. As we reach the end of 2022, buyers are beginning to have more choices just as interest rates are trending lower.
While the number of closings was down last month, sales continue to take place. Across the six metro markets we track most closely, there were more than 800 closings last month.
East Cobb
remained a hot market, with a 17% increase in the average sales price for a detached single-family home. The average sales price for detached and attached combined was $536,992. The 490 total listings represented a 35% increase, while the number of sales dropped 45%.
Sandy Springs was the only market in recent memory that experienced a minor decline in year to year average sales price. The $656,364 average was a 3% drop compared to November 2021.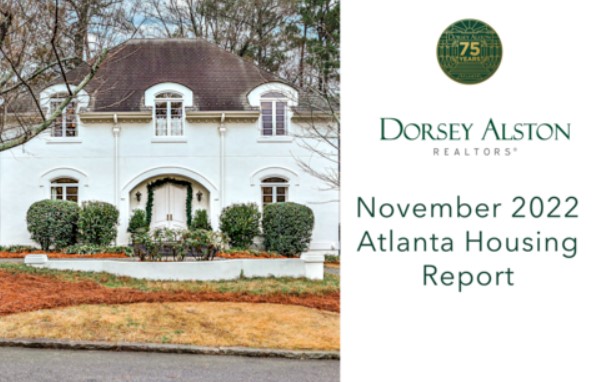 However, the $1,101,997 average for detached single-family homes was a 4% increase. The 93 new listings were a 38% decline, while the 75 sales was down 52% over the same period.
Sales prices in the Brookhaven and Dunwoody areas remained strong, with an 8% increase above November last year. The 78 sales were a 56% drop, and the 267 total listings were a 15% increase.
The 642 total listings in North Fulton was a 60% increase from a year ago, and the average sales price was up 8% to $ 717,548. The number of new listings and sales were both down.
Buckhead had 177 new listings, which is down 30% compared to last year. The total active listings were down 4%. All of the other markets experienced increases.
The average sales price for a detached single-family home was $1,224,685, which was a small 1% increase. However, the average for townhomes and condominiums was up 16% to $507,017.
In Intown Atlanta , the 192 sales last month was a 51% decline, while the average sales price was up 5% to $566,511. New listings were down 23%, but total listings were up.
Comparatively, the 11-county metro area saw a 49% increase in total active listings and a 48% drop in sales. The average sales price was up 5% compared to November 2021.
Fewer sales and more listings are bringing balance to the Atlanta home market. Inventory hasn't caught up to demand yet, and we don't expect it to anytime soon, but it's moving in the right direction.