For several years, Dorsey Alston has provided the Buckhead Coalition with the snapshot of the housing market for the annual Buckhead Guidebook.
It's captured in the Home Sales Data section, which ranks the highest prices paid for homes over the past year, a breakdown of the average sales prices by zip code and a comparison of the average sales prices compared with the rest of Atlanta.
The Buckhead Guide Book is a terrific resource for everything Buckhead, from history and interesting facts to economic data, school profiles, and write-ups on the shopping, attractions, and restaurants that define our community.
A few interesting items from the 2021 housing snapshot include the highest price paid for a house, the hilltop home that once belonged to Tyler Perry across from the entrance to The Lovett School, which sold for $15,000,000. The second-highest price paid was $7,385,000 for 391 Argonne Drive, a six-bedroom, nine-bath masterpiece near Pinestream Road.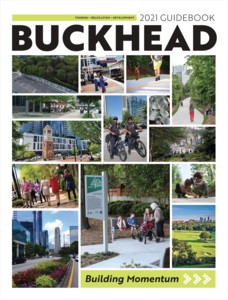 In 2020, the average sales price for a Buckhead home was $1,216,818, compared with an average of $370,757 for the rest of Atlanta.
All of this and more can be found in the Guide Book, which is available by contacting the Buckhead Coalition.
Since 1988, the Coalition has been an influential civic organization made up of 100 leaders from the community. Its mission is to advocate on behalf of Buckhead, support the well-being of its residents, businesses, and visitors, convene public and private organizations and ensure Buckhead is connected to other areas of the city and region.
It produces The Buckhead Guidebook annually to provide information on Tourism, Relocation, and Economic Development.
The economic data reveals just how vital Buckhead's role is in supporting our Georgia economy. The guidebook is also invaluable for planning a vacation, assisting with relocations, or showing why so many decide to open new offices within the commercial core.
It is also a tool for any individuals seeking information on the area's history from early Native Americans to today's impressive skyline, things to do, entrepreneurial and incubator opportunities and employment sector data.
Dorsey Alston's relationship with the Buckhead Coalition goes back decades, and we are proud to be trusted by this distinguished institution.
Click here to read a digital version of the Buckhead Guidebook.