Dorsey Alston REALTOR Ansley Alexander is heading to Kentucky this weekend to Run for the Roses.
Well, she won't be running. A horse bred by her and her husband Tyler named Plus Que Parfait will be doing the running at the Kentucky Derby. This picture shows a young PQP with Tyler and their daughter Ali.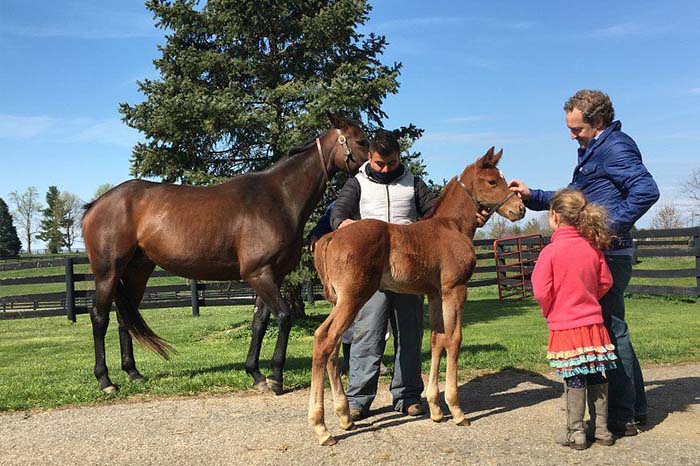 Trained by Brendan Walsh, the chestnut ridgling earned his first stakes victory in the U.A.E. Derby (G2) at Medyan in Dubai. Plus Que Parfait picked up 100 points on the Road to the Kentucky Derby in the Middle Eastern venture and added it to the four points he garnered last November as a two-year-old when finishing second by a neck in the Kentucky Jockey Club Stakes (G2) under the Twin Spires at Churchill Downs.
On Saturday, he'll be going for the upset at the longest running sporting event in the country. Plus Que Parfait, fourth on the leader board ranking and the horse of Calloway Stables, was bred by the Alexanders and Tyler's childhood friend Clint Joiner and his wife, Ann.
The Kentucky Derby, the fastest two minutes in sports, is one and one-quarter miles long and carries a record $3 million prize. More than $200 million is wagered on all the races of the Kentucky Derby annually.
Plus Que Parfait is just the third horse the Alexanders and Joiner's foaled since launching Kentucky-based Calloway Stables in 2014. Tyler Alexander grew up on a competition Quarter Horse and Tennessee Walking Horse farm in West Tennessee that has been in his family for four generations, while Joiner was the son of a large animal veterinarian and a lead wrangler on a Colorado dude ranch.
Plus Que Parfait will be a long shot when the gates spring open. But his name translated from French means "more than perfect." With any luck, he'll be just that come Saturday afternoon! We'll be pulling for him along with the rest of Atlanta!