We are thrilled to announce 12 new agents have joined our team over the last three months.
Since March, Lisa Smith, Fran Booth, Tina Maddox, Jenni Wilson, Catherine Young, Shellie Salazar, VirginiaHopkins, Hilary Young, Elena Ferro, Garrett Davis, Taylor Schwieger and Kate McKenzie have made the move to Dorsey Alston, Realtors.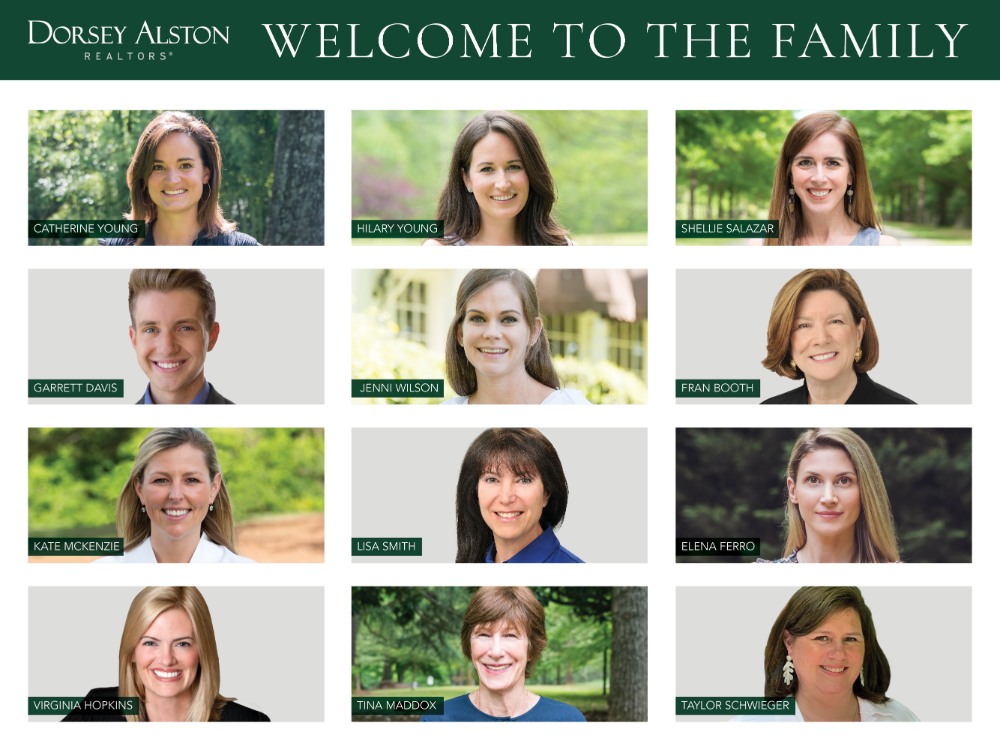 We now have more than 250 agents and have been the top office in Buckhead home sales for several years. With President Michael Rogers setting the tone, our brokers Rip Sartain, Patrick Wood and Carson Matthews ensuring agents are supported and successful, and our intown office set to come online this year, we are going to continue to grow in a measured and intelligent way.
"We are humbled this outstanding and experienced group of agents has chosen to join Dorsey Alston," Michael Rogers said. "We pride ourselves on being a family, so it must be a fit both ways, from the agent to the company and vis-a-versa. All of these agents are culturally in sync with our company."
"There is such a high level of comfort coming to Dorsey Alston, knowing Michael's and the brokers' sustained commitment to their agents," said Catherine Young. "Having that support and knowing your company has your back no matter what makes a huge difference in today's market."
The moves come fresh off the heels Dorsey Alston being named once again the Top Workplace in Atlanta by the AJC. This is the sixth year in a row Dorsey Alston, founded in 1947 by Roy Dorsey and Robert Alston, has been recognized. The company has also been honored for its leadership, clued in senior management, training and communication by the South's largest daily newspaper.
Please join us in welcoming Kate, Taylor, Garrett, Elena, Hilary, Virginia, Shellie, Catherine, Jenni, Tina, Fran and Lisa to Dorsey Alston!
To learn more about the agents that make up Dorsey Alston, Realtors, visit https://www.dorseyalston.com/agents/