Thanks entirely to the people who work here, Dorsey Alston has again been named a Top Workplace by the Atlanta Journal-Constitution.
2022 is the 8th year in a row the only major daily newspaper in Atlanta has named the metro area's oldest and largest locally-owned residential real estate firm to the coveted list.
According to the Journal-Constitution, 4,583 companies were nominated or asked to participate. Philadelphia-based Energage surveyed 305 of those companies, a record in the 12 years of the no-cost program. The honor is based solely on employee feedback.
The surveyed companies employ 73,135 people in metro Atlanta. Of the 72,546 employees who received the survey, 42,698 responded.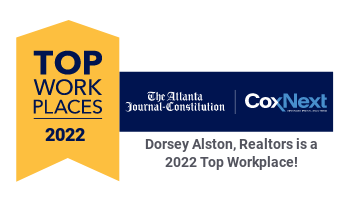 Employees surveyed expressed confidence in their leaders and appreciation and support from their bosses. Of respondents, 80% agreed with the statement, "This company motivates me to give my very best."
From the article, which appeared in the Sunday, March 13th newspaper:

Atlanta's oldest privately-owned residential real estate company lives by the motto that reads in part: "We will not sacrifice reputation for growth. We will not sacrifice quality for quantity. We do the right thing."
Its motto dovetails with what Patrick Wood, senior vice president and managing broker, said he believes sets Dorsey Alston apart from other local real estate companies.
"The focus of Dorsey Alston is not growth or the bottom line. It is, and has always been, about providing the best life possible for our agents and staff," Wood said.
Dorsey Alston has a staff of 278 and locations in Buckhead, Intown and East Cobb, had $1.4 billion in revenues for the last year available.