Dorsey Alston is proud to be the Title Sponsor for Rock Chastain!, a benefit concert for the Chastain Park Conservancy featuring the Gin Blossoms, Mama Dear and Ruby Velle and the Soulphonics October 3 at the Cadence Bank Amphitheatre in the heart of Chastain Park. The conservancy is a 501(c)(3) not-for-profit organization dedicated to the stewardship of Troy Chastain Memorial Park's natural and historic resources. Its mission is to restore, enhance, maintain and preserve the Park's 268 acres for its over 2 million annual visitors. Tickets for Rock Chastain are available on LiveNation.com.
It's a great opportunity to introduce you to one of our favorite neighborhoods, Chastain Park.
To say it as an active neighborhood is an understatement. With the 268-acre Park at its heart, Chastain Park is home to top schools, athletic programs, a historic golf course, horse stables, year-round swimming pool, new playground, arts center, an American Legion Post, and miles of safe, pedestrian-only walking paths.
The construction of the Park was completed in 1945, a year after the death of Troy Green Chastain, who helped develop the original acres of land. To honor his contribution, the county renamed former North Fulton Park "Chastain Memorial Park" on September 25, 1946.
Around the Park grew one of Atlanta's top neighborhoods.
Starting in 1950, the Chastain Park neighborhood underwent its busiest development period, which would last through the '60s. The development consisted mainly of ranch and mid-century modern style homes. Today many of these homes have been renovated extensively or torn down and rebuilt. The lot sizes in Chastain Park are on average half an acre or larger.
Residents can find most of their neighbors at the baseball and softball diamonds, football fields and basketball courts of the Northside Youth Organization. Beginning with football in 1949, and along the way adding baseball, basketball, softball and cheerleading, NYO is one of the largest intra-league youth sports programs in the country. It serves more than 2,500 area families and 5,000 children register annually.
Neighbors will also run into one another at the Chastain Park Pool, a public city of Atlanta pool operated by the not-for-profit Chastain Park Athletic Club. It is home to the award-winning Tidal Waves swim team. Across Chastain Park Avenue from the pool are nine newly resurfaced lighted tennis courts that are home to more than 40 ALTA and USTA tennis teams.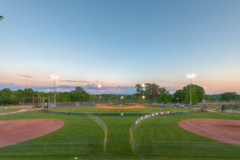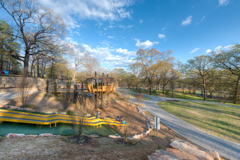 With a super hillside slide and treehouse, Chastain Park's state-of-the-art playground is perfect for young, active families. It is just down the road from the premier Chastain Horse Park, which offers therapeutic riding, riding lessons, day camps, volunteer offerings and event space.
The Chastain Arts Center is an educational facility that offers classes, exhibits, workshops and day camps. It sits on a hilltop shared with the Galloway School off of the well-traveled Chastain Park Avenue.
Established by Elliott Galloway in 1969 as an independent day school, Galloway serves a diverse student body of approximately 750 students in preschool through 12th grade. It prides itself on a unique approach to teaching and learning by encouraging students to value themselves and to value knowledge.
The award-winning Sutton Middle School and The Schenck School — one of the top schools in the nation for dyslexic students — also call Chastain home.
Completed in 1944, Cadence Bank Amphitheatre is a renowned outdoor concert venue that offers concerts throughout the year and attracts many visitors. It has been recently renovated and is considered Atlanta's oldest outdoor music venue.
Another destination popular with the neighborhood is Atlanta's oldest continuously-operated restaurant, Horseradish Grill. It began as a country store alongside Powers Ferry Road in the days when the byway was just a dusty dirt trail. It specializes in fine dining in a rustic, yet sophisticated atmosphere, with cozy tables and the sound of swing and jazz in the background.
Last, but not least is the path around the Park constructed by the PATH Foundation. The three-mile loop connects joggers and walkers alike to all the amenities Chastain park has to offer.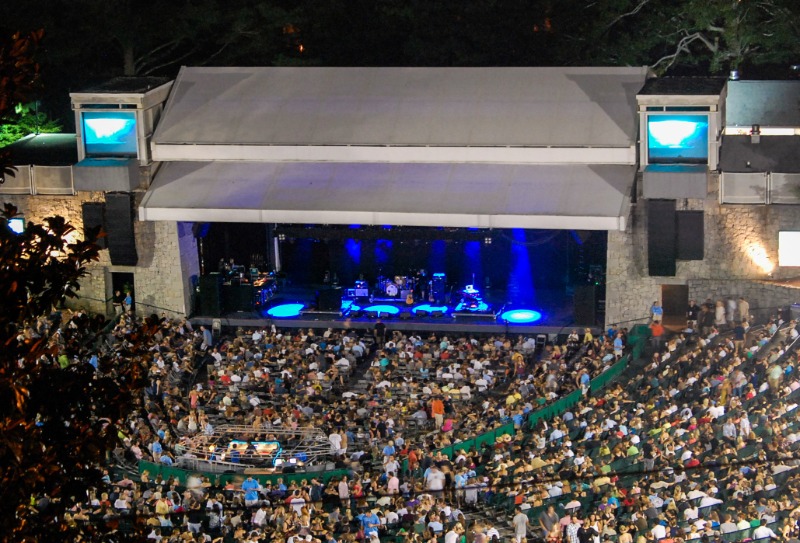 What makes Chastain Park are the people who call it home, and who volunteer with organizations like NYO, the horse park and the Chastain Park Conservancy.
It is a diverse group of successful, engaged people who care about their community and the city of Atlanta.
Click here to view all of the homes currently available for sale in Chastain Park