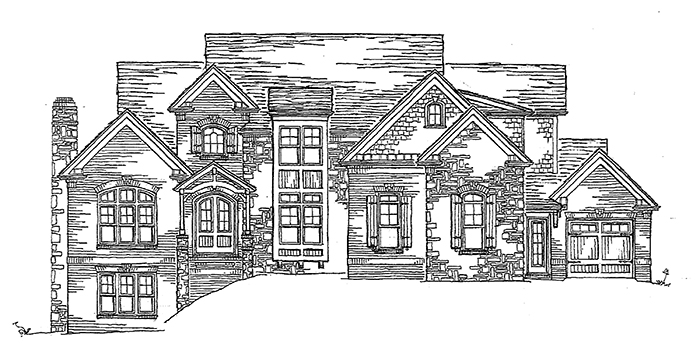 In 2014, developer and homebuilder "Dub" Franklin saw an opportunity to assemble four pieces of prime real estate in East Cobb.
Olde Braswell Estates is underway as a result.
Franklin, founder of OWF Investment Corp., has begun building the first of 10 custom-built homes on nearly 6 acres off Sewell Road, in the coveted Walton High School district. The luxury homes will sell for $1.3 million and above.
"There are so few custom builders in that area," Franklin says, who founded his company in 1982 and built high quality communities such as Olde Vinings Estates and Olde Whiteoak Estates until about 2009, when the market and family health issues forced him to take a hiatus.
By 2012 he was beginning to see more opportunities in the East Cobb market and began assembling land, which he sold to other homebuilders. But he wouldn't sell what is becoming Olde Braswell Estates, which, he believes, will be exceptional.
"I'm a true custom builder," Franklin says. "What we are doing is simple elegance and timeless."
He chose Dorsey Alston Realtors to market the homes because the company reflects his vision — it is locally owned and privately held, which was important to him as a partner.
"We are unbelievably excited for Olde Braswell Estates because of Dub and the craftsmanship he and his team bring to everything they do," says Heather Greenhaw, an agent with Dorsey Alston Realtors. "Every detail of the homes is beyond custom. You don't see this type of construction nowadays."
Franklin is building four-sided brick homes with artisan stone in a traditional European look. Each floor plan is unique, and because of the lot sizes, the homes can accommodate a full basement and there is plenty of room in the backyard for a pool. The homes will be designed to be relatively maintenance free, he says.
Dining rooms and kitchens will be intimate, detailed with quartz in the master baths and kitchens. High-end marble and granite will be in the secondary baths.
"In the high-end market, it's all quartz now," he says. "Granite is now being converted back to secondary baths."
The first home should be ready by October, says Dorsey Alston's Dana Champion. The 4-bedroom, 4.5-bath home is 4,274 square feet on .38 acre with the master on main. The home will also have a 2,692-square-foot basement.
Other homes can be custom designed with a master on the second floor, and all of the homes will have a three-car garage.
"These truly are custom homes," Champion says. "Franklin's quality of detail, the workmanship of his people — you just don't find that anymore."
Franklin says he is delighted that many of his subcontractors that he knew from the 1980s have returned to work with him on Olde Braswell Estates.
"It takes a team to make this go," he says. "Each person is important in what they are doing, but it's the people around me that make it possible."