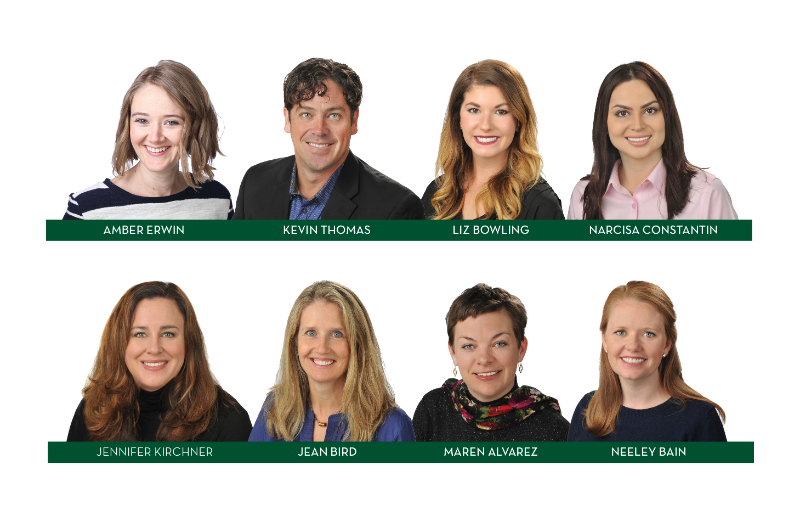 Dorsey Alston would like to roll out the red carpet for our new agents.
We have several joining the team who are second and third-generation Realtors. We have an agent who moonlights as a professional musician. We have an immigrant from Romania, who so fell in love with Atlanta's neighborhoods she decided to become a Realtor. It's a strong group of professionals, who rise to the high standards of Dorsey Alston. We are honored to have them.
Meet the new team members below, and join us in welcoming them to the Dorsey Alston family!
Amber Erwin
Real estate is in Amber's blood. Her father was an agent and broker for more than 25 years. She is a native Georgian, having grown up in Gwinnett County. She currently resides in the Morningside-Lenox Park area. She therefore has a deep knowledge and understanding of metro Atlanta's neighborhoods. You may spot her on your TV or on a film screen from time to time, as she is also an actress. She said there are few things better than seeing the smile on clients' faces as they are handed the keys to their new home.
Kevin joined Dorsey Alston after spending 14 years in the construction business, working  throughout the Caribbean. He brings knowledge of best construction practices and vision for practical modifications and enhancements to properties. In addition to real estate, Kevin's passion is music.  He is a professional studio and live performance musician and can be seen around Atlanta at various private functions and club concerts with a variety of local bands and often supporting international artists touring the United States.
Originally hailing from Duluth, Liz attended the University of Georgia and, upon graduating in 2010, moved to Atlanta. She immersed herself in the PR and marketing world, representing locally-owned restaurants and establishments before taking her talents to the corporate marketing department of a large, national residential real estate firm. A few years later, she decided to put her expertise to good use as a realtor with Dorsey Alston. Liz and her husband, Teddy, reside in the Pine Hills neighborhood of Buckhead with their puppy, Buddy. In her free time, Liz enjoys photography, exploring the Beltline, and cheering on the Braves at SunTrust Park.
Narcisa Constantin
Narcisa immigrated to the United States in 2012, and immediately fell in love with the homes and neighborhoods throughout Atlanta. She knew she wanted to be a residential real estate agent. She worked as social media consultant to firms in the hospitality and retail businesses and has also managed a few residential rentals, which further peaked her interest in residential real estate. Born and raised in Falticeni, Romania, she graduated from Stefan cel Mare University with a bachelor's degree in International Business. She lives in Sandy Springs.
Jennifer Kirchner
Proudly calling Atlanta home all of her life, Jennifer grew up in East Cobb and attended Walton High School, before earning a Bachelors of Fine Art degree from the University of Georgia. She has first-hand knowledge of some of Atlanta's finest neighborhoods, including Virginia-Highland, Morningside, Buckhead, Ansley Park and the booming Westside. Her passion for design and architecture allowed her to oversee the construction of her new home in Haynes Manor. At Dorsey Alston, she has partnered with Caroline Masucci to form the Masucci Kirchner Group. Jennifer is married with two children who attend Christ the King School in Buckhead.  They enjoy spending time with their rescue dog "Bob Seger" and traveling to their family home in Northern Michigan.
For more than 12 years, Jean and her husband invested and built homes in the Atlanta market.  Together, they renovated and sold multiple homes and retain residential investment properties today. Originally from Charlotte, N.C., Jean is a graduate of The University of North Carolina at Chapel Hill with a BA in Economics. In 1998, she moved to Atlanta and resides in Buckhead's Wildwood neighborhood with her husband, son and two daughters. She is part of the Beery Friedman Cummings team of Dorsey Alston Realtors.
Maren grew up in Buckhead and had an early exposure to real estate through her mother, who has been a full time agent for 25 years. She is working alongside her mother and shares the same attention to detail and commitment to outstanding customer service. Working together allows them to be available whenever a client needs their assistance. Maren lives in the Chastain Park with her husband and two sons. She graduated from Westminster and Washington & Lee University with a degree in mathematics.
A native Atlantan, Neeley grew up with a passion for people and a love for design. After graduating from the University of Georgia with degree in public relations, she pursued a career in recruiting and human resources at an Atlanta-based CPA firm. With a lifelong love for creativity – particularly in the built environment — she recently joined Dorsey Alston where she could put her passions to work along with the skills acquired from her previous career. Active in the Atlanta community, she has been involved with many different organizations. Neeley has a passion for interior (and exterior) design and enjoys exploring the Atlanta restaurant scene. She lives in Springlake with her husband Harrison, their sons, Bo and Rory, and their goldendoodle, Sammy.